SLASH (the) INDUSTRY is an initiative to boost the quality of Austrian fantastic cinema. It is conceived as a regular project in the annual eleven-day main edition of the SLASH Film Festival at the end of September.
As the title already says, SLASH (the) INDUSTRY is not exclusively directed at established members of the domestic film scene but addresses amateurs and semiprofessionals across Austria with its deliberately low-key program.
SLASH (the) INDUSTRY is focused on establishing a nationwide network for creatives interested in one or more narrative forms of genre cinema. It culminates in an event series that is part of the SLASH Film Festival. Lectures, panels, pitching sessions, and other more or less traditional modules should serve to network and pass on expertise, share experiences, and learn and grasp basic techniques that may not yet be widespread in Austria.
This custom-tailored initiative is accompanied by further events (such as film screenings, audience talks, happenings) of the SLASH Film Festival and is to become a convincing, intelligent, and low-key program that allows people to thoroughly comprehend virtually all elements, from idea generation to production and distribution.
Yet the centerpiece of this pilot project—the SLASH CAMPFIRE TALES—goes beyond this specific event.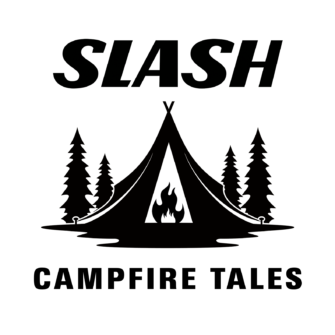 Here, we are on the lookout for compelling, exciting, wild, fantastic, and eccentric stories. Anything that pops, goes—anything with ties to the genre: slashers and ghost movies, actioners and thrillers, postapocalyptic sci-fi, epic fantasy, and much more.
Our open call for synopses is to lead to a treatment that has been honed over six months and will be pitched, in English, to an exclusively international jury at the main event during the SLASH Film Festival.
Send us your plot synopsis by April 30, 2023!
If your story is chosen, you will be part of the SLASH CAMPFIRE TALES 2023 and thus competing for a content development grant of the Austrian Film Institute (ÖFI)!
For further questions, please contact us at