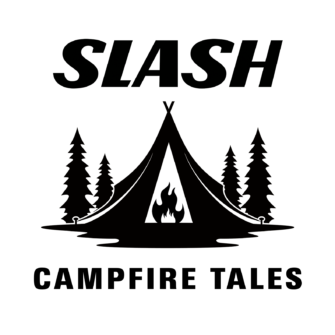 Have you always dreamed of setting a slasher in a winter sports area? Should the Waldviertel area be visited by extraterrestrials or Vienna be terrorized by a serial killer? Do you want Alpine myths and folklore to be the subjects of a fantasy thriller? And are you ready to tell these tales yourself and enter an open but amicable competition with other genre screenwriting talents? Then we've got something for you!
Introducing the SLASH CAMPFIRE TALES, a competition in which we're looking for the most compelling, exciting, ferocious, fantastic, terrifying story ideas for feature films in genres like horror, science fiction, and fantasy.
Here's the best thing about it: everyone with a good story can enter. The rule of thumb is that if you told the story around the campfire, you should be looking at big eyes and open mouths and ideally have nobody fall asleep or go to the bathroom in between. All things enjoyable and genre-related are allowed—slashers and ghost movies, actioners and thrillers, postapocalyptic sci-fi, epic fantasy, and much more.
We are convinced that Austria harbors a wealth of writers who haven't yet had or seen the opportunity to present their ideas to a wider public.
SLASH CAMPFIRE TALES sees itself as a low-key program. We don't care if you're experienced in screenwriting or have worked in the film industry. Whether your submissions are already perfectly formatted as a script is also inconsequential. Our focus is on something far more crucial: The talent to tell a good story well.
We make sure that your submitted stories are treated with the utmost respect and are read, discussed, and evaluated by two juries (German-language and international) of genre-cinema experts.
If you make the first hurdle and find your synopsis among the six best submissions, you are officially a competitor at the SLASH CAMPFIRE TALES 2023 and can discuss questions regarding your project with our mentors. They will support you, give you advice, and see how your project develops.
Not bad, not bad at all: If you made it past the second phase of the SLASH CAMPFIRE TALES, which culminates in the submission of your treatment, there's a good chance you'll be the year's best. Three winning projects selected by our two juries will be given the opportunity to receive a story development grant in the amount of at least 10,000 euros, courtesy of the Austrian Film Institute (ÖFI).
This will bring you one decisive step closer to your dream of writing a screenplay for a genre movie.
Send us your synopsis until April 30, 2023! Find the detailed submission guidelines below.
If your story is chosen, you will be part of the SLASH CAMPFIRE TALES 2023 and are therefore in the race for a story development grant of the Austrian Film Institute (ÖFI).
Detailed Timeline
---
→ By April 30, 2023
Submission of synopses in digital form at STORIES@SLASHFILMFESTIVAL.COM
---
→ By Mid-May 2023
Selection of six synopses
A German-speaking jury will select six from all submitted synopses.
The jury is made up of members of the German film industry with special expertise in fantastic cinema.
The synopsis authors are invited to hash out their submitted synopses into a treatment.
Mentors will assist the participants in an advisory capacity.
---
→ By Early September 2023
Submission of treatments
Final evaluation of treatments by the German-speaking jury
---
→ End of September 2023
Pitch to international jury
The projects will be presented to an international jury as part of SLASH (the) INDUSTRY during the 14th SLASH Film Festival (September 21–October 1, 2023) in English.
Multimedia presentations are expressly welcome.
Final evaluation of treatments by international jury.
→ September 30, 2023
During the closing gala of the 14th SLASH Film Festival, the three best projects—chosen according to the combined ratings of the German-speaking and international juries—are given the opportunity to win one plot development
---
Submission Guidelines
All Austrian citizens and Austrians abroad as well as permanent residents in Austria are eligible to apply.
The author must have the rights to the material they are submitting.
Application documents: see submission form below.
Only one submission per date and per person.
Material whose development has previously been supported by the Austrian Film Institute (ÖFI) is not eligible for submission.
Application Documents
Cover sheet (incl. title, name, contact info)
Short abstract: 3 to 5 lines max.
Synopsis/project description: 3 to 4 pages max.
Author's statement: short explanation why this story must be told, description of atmosphere/genre/look of the finished film, 2 pages max.
Short bio and filmography (where applicable)
For screen adaptations: (option) agreement for film rights
File format: PDF (LastName_FirstName.pdf)
Send your submission by email only.
A4 format, 12-pt font, 1.5 line spacing, in German
Media (DVDs etc.) containing work samples or reference films of any kind cannot be considered.
Submissions deviating from the guidelines cannot be considered.
Please send your submission documents by email to stories@slashfilmfestival.com.
For further information, contact