My First SLASH
Diverse | 71 Min | DCP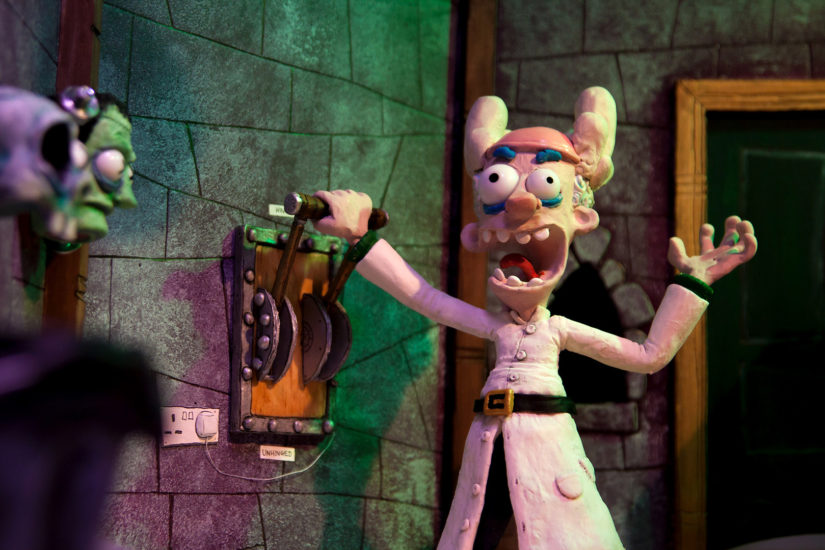 Alle sind willkommen, insbesondere Familien und Kinder (mit 7 Jahren oder älter).
In der Hoffnung, ein lebenslanges Interesse an Fantastischem Film zu wecken und es in der SLASH-Familie willkommen zu heißen, präsentieren wir auch dieses Jahr wieder ein familienfreundliches Kurzfilmprogramm, das der blühenden Fantasie und Neugier eines jüngeren Publikums gewidmet ist und Menschen jeden Alters zum Lachen bringen wird.
Der Mond scheint zum Greifen nah, doch der Weg zu ihm ist beschwerlicher als erwartet. Von Sternen und Kometen umgeben schwebt er in der unendlichen Kälte des Weltraums, doch wenn wir um unsere Lieben trauern, tröstet uns der Gedanke, dass sie weiterhin wie Sterne am Himmel neben ihm leuchten. Der Mond ist ein treuer Begleiter, stets an unserer Seite oder im Hintergrund, wenn wir durch den Alltag gehen, unerwartete Freundschaften schließen, uns verlieben und die graue Welt um uns herum in kunterbunte Farben tauchen. Und er wird immer noch da sein, auch wenn sich die Erde langsam auflöst oder von schnell wachsenden Pilzen überwuchert wird. Gemeinsam schaukeln wir bis zum Mond und darüber hinaus!
---
SWING TO THE MOON
Marie Bordessoule, Chloé Lauzu, Adriana Bouissié, Vincent Levrero, Nadine De Boer, Solenne Moreau, Elisa Drique | FR 2022 | 7′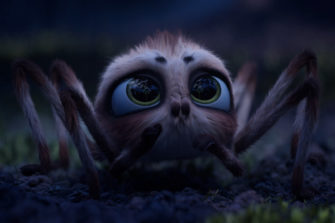 Living in the forest, little spider Temi dreams of catching the Moon. She will do anything to get her.
---
STARLING
Mitra Shahidi | US 2023 | 9′
Europäische Premiere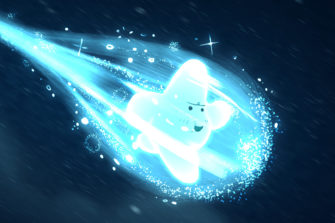 The spirit of a little girl shoots down from the heavens to spend her birthday with her family.
---
GRUMP IN THE NIGHT
Kris Theorin | US 2022 | 5′
Österreichpremiere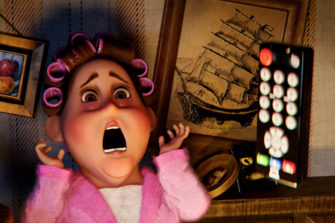 One stormy night, a man is awoken by strange noises downstairs and soon finds himself facing off with a TV-loving poltergeist.
---
BATTERY MOMMY
Seungbae Jeon | KR 2023 | 9′
Österreichpremiere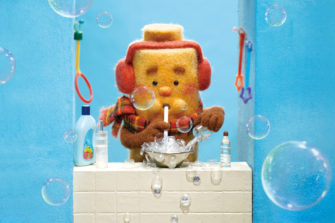 In a world where batteries have lives of their own, Battery Mommy works tirelessly to power our daily appliances. On a wintery afternoon, when a nursery fire alarm fails to go off, Battery Mommy must save the day.
---
GÜNTER FALLS IN LOVE
Josephine Lohar Self | UK 2020 | 2′
Österreichpremiere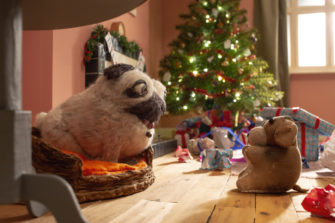 One Christmas day, Günter, a pudgy family dog, falls madly in love with a stuffed animal.
---
MY HAPPY END
Milen Vitenov | DE 2007 | 5′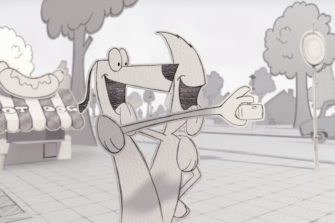 When a dog succeeds in catching his own tail, he suddenly finds his best friend.
---
MARGIN OF TERROR
Kieran McLister | UK 2020 | 4′
Österreichpremiere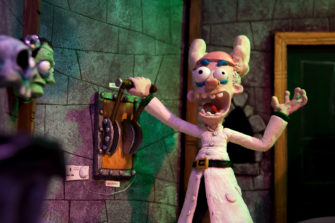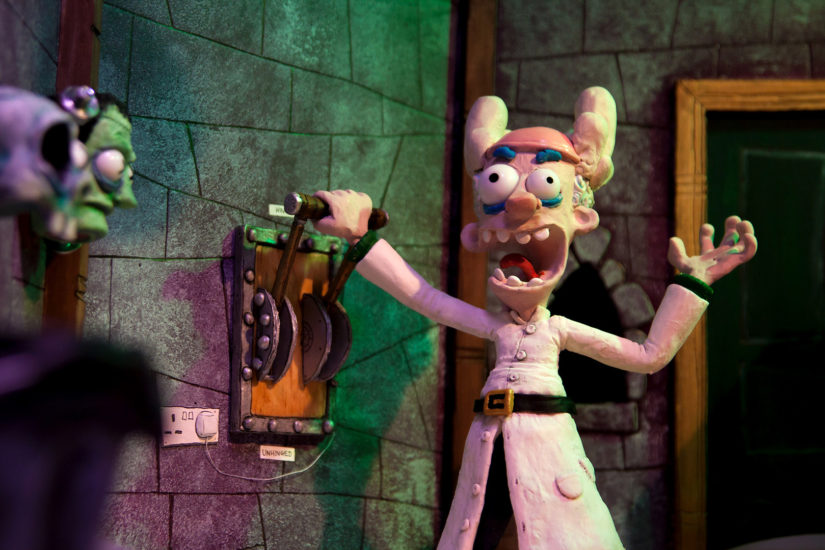 A mad scientist is hell-bent on creating the most horrific, terrifying giant monster ever seen; no matter how many attempts it takes.
---
ROALD
Clara Bigache, Armand Gaucheron, Laurent Chavalle, Alexis Lheureux, Julie Chene, Maxime Prone,Thibault Chopinet | FR 2022 | 6′
Österreichpremiere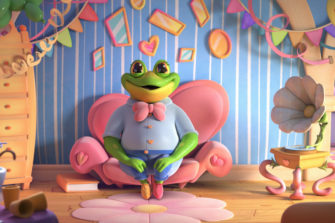 A birthday party turns creepy when a toad who perceives life in a cute and colorful way meets a paranoid fly.
---
IT'S A GRAY, GRAY WORLD
Seyed Mohsen Pourmohseni Shakib | IR 2022 | 6′
Österreichpremiere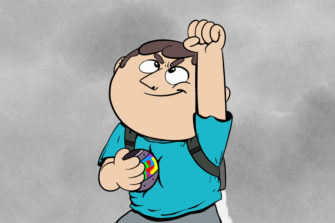 In a completely gray world where colors aren't allowed, the colorful identity of a young man is accidentally revealed. Escaping arrest, he defends his right to freedom.
---
SPRING
Andy Goralczyk | NL 2019 | 8′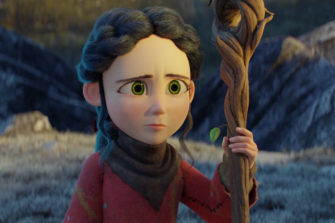 A shepherd girl and her dog go on an epic adventure to face ancient forest spirits in order to continue the cycle of life.
---
ON THE 8TH DAY
Agathe Sénéchal, Alicia Massez, Elise Debruyne, Flavie Carin, Théo Duhautois | FR 2023 | 8′
Weltpremiere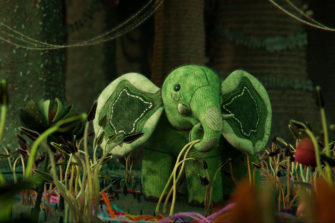 It took 7 days to create the world. It only took one to disrupt its balance.
---
SHROOMSDAY
Daniel Denzer, Marius Oelsch, Rita Weiss, Alessa Wolfram | AT 2022 | 3′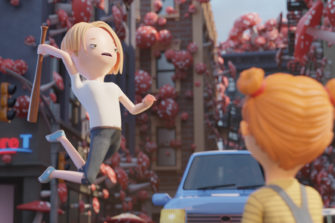 When a mutating fungal infestation spreads across the city, everyday citizens must fight to prevent total annihilation.
---
Spieltermine
Metro
So,24.09.▸13:00
Mehr aus unserem Programm