THEE WRECKERS TETRALOGY
Sa, 22.09. | 13:00
FILMCASINO
So, 30.09. | 18:30
METRO Pleskow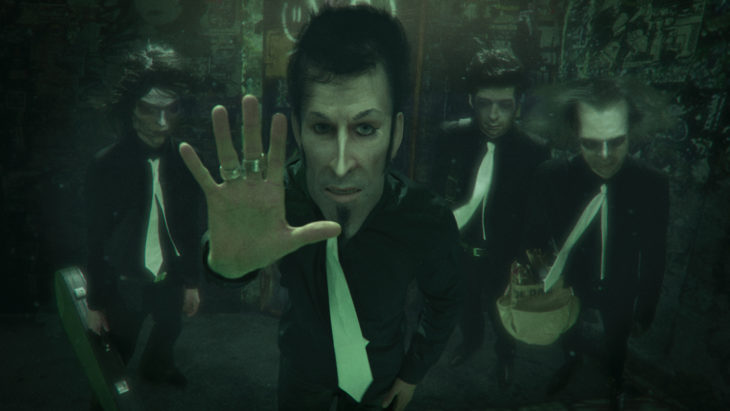 "A dream you dream alone is only a dream. A dream you dream together is reality." In vier Rock'n'Roll-Fantasien komponiert von Rosto begeben sich THEE WRECKERS auf einen preisgekrönten alptraumhaften Roadtrip. Nur das vorangestellte Zitat hilft, wenn surrealistisch das Bett wie ein Boot schaukelt auf dem ein Mann und ein Leichnam dem gemeinsamen Leben im Fernsehen nachtrauern oder eine burlesque Krankenschwester die schwerelose Band und einen verrottenden Kopf zur letzten Ruhestätte fährt.
NO PLACE LIKE HOME
R: Rosto | NL 2008 | 6′
LONELY BONES
R: Rosto | FR/NL 2012 | 10′
SPLINTERTIME
R: Rosto | NL/BE 2014 | 11′
RERUNS
R: Rosto | NL/FR/BE 2018 | 14′
EVERYTHING'S DIFFERENT, NOTHING HAS CHANGED (documentary)
R: Joao MB Costa, Rob Gradisen | NL 2017 | 20′
Rosto is a Dutch filmmaker, illustrator, actor and animator; but music has always been the driving force in his work. It all started with the expanding mixed media project MIND MY GAP, at first an online graphic novel, that quickly branched out with music and films, including the award winning short films BEHEADED (1999), ANGLOBILLY FEVERSON (2002) and JONA/TOMBERRY (2005). Rosto's opus THE MONSTER OF NIX (2011) features collaborations with Terry Gilliam and Tom Waits, amongst others.
Läuft wann und wo?
Sa, 22.09. | 13:00
FILMCASINO
So, 30.09. | 18:30
METRO Pleskow