BLOOD ON MELIES' MOON
Fr, 28.09. | 21:00
METRO Pleskow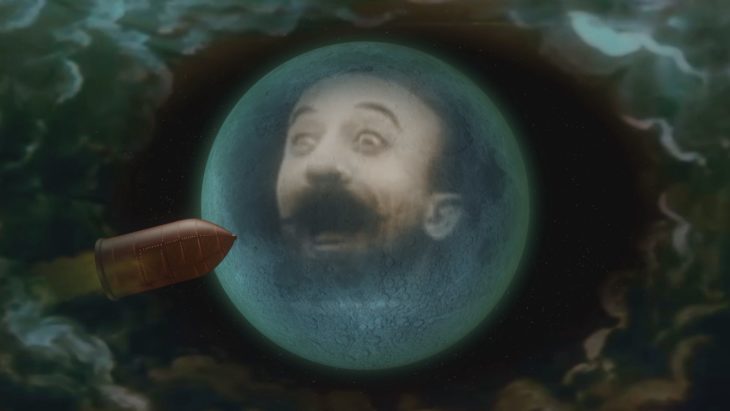 In den Siebzigern und Achtzigern war Luigi Cozzi Schöpfer von berauschenden Pop-Prunkstücken wie STARCRASH (1978). Sein erster Film nach über 25-jähriger (!) Schaffenspause ist eine berückende Lo-Fi-Fantasterei, die das (sehr) kleine Budget mit einem Überschuss an kreativem Wahnwitz (und Wahnsinn) ausgleicht. Cozzi selbst spielt die Hauptrolle und versucht einem Mysterium aus der Frühzeit des Kinos auf den Grund zu gehen: Dabei trifft er Familie und Freunde wie Lamberto Bava, sinniert über sich selbst als Ed Wood des italienischen Kinos und fliegt irgendwann in einer Méliès-Rakete durch die Luft und sein eigenes Œuvre. Mehr Vision geht nicht.
In Anwesenheit von Luigi Cozzi.
Luigi Cozzi (*1947 in Italy) is active in various parts of film business and has vigorously promoted sci-fi films as a movie critic, book author and theatrical distributor. Cozzi has been working with cult director Dario Argento since 1970, including for some of the maestro's most famous flicks like PHENOMENA (1985), TWO EVIL EYES (1990), THE STENDHAL SYNDROM(1996). He has also written and directed cult movies such as THE TUNNEL UNDER THE WORLD (1969), HERCULES (1983) and PAGANINI HORROR (1989).
Läuft wann und wo?
Fr, 28.09. | 21:00
METRO Pleskow