We Are Zombies
We Are Zombies | François Simard, Anouk Whissell, Yoann-Karl Whissell (aka RKSS) | CA/FR 2023 | 80 Min | DCP
Filmcasino
Fr,22.09.▸01:00*
Filmcasino
Fr,29.09.▸23:00
Night of the 1000 knives
Tickets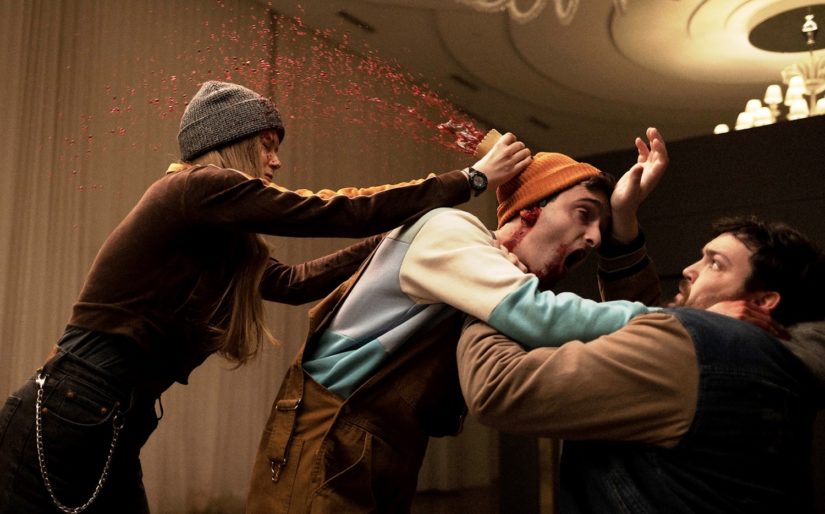 29.9: Part of Night of the 1000 Knives
Freddy, Karl, and Maggie are lovable nerds and petty criminals who round up zombies that roam the streets of their city uninterested in human flesh—euphemistically called "the living impaired"—to sell them to a weird underground club. When they cross the plans of a mean businessman, his minions kidnap their grandma and demand ransom. We Are Zombies is a fast-acting, dirty-minded, razzle-dazzle splatter comedy in the spirit of 1980s video-store fodder with which the makers of Turbo Kid wrench remarkable new aspects from a been-there-done-that genre. (mk)
O P E N E R
DEATH SNOT
Charlie Schwan | US 2023 | 9′
Austrian premiere
Seasonal allergies drive a man to the brink of insanity.
François Simard, Anouk Whissell, Yoann-Karl Whissell (aka RKSS)
Simard, François, Whissell, Anouk, and Whissell, Yoann-Karl are also known as the filmmaking collective Roadkill Superstar, or RKSS. Over the past fifteen years, they have made many short movies, including Le Bagman, Demonitron, and T is for Turbo. Their first feature, Turbo Kid (SLASH 2015), premiered at Sundance in 2015. In 2018, they presented their serial killer thriller Summer of 84 (SLASH 2018). We Are Zombies is their third feature. It premiered this August at the Fantasia Festival in Montréal.
Screenings
Filmcasino
Fr,22.09.▸01:00*
Filmcasino
Fr,29.09.▸23:00
Night of the 1000 knives
* in the night to 23.9.
More films you might like