Horror Maniacs – I Want to See Pigblood!
Horror Maniacs | Martin Nechvatal | AT 1994 | 62 Min | DCP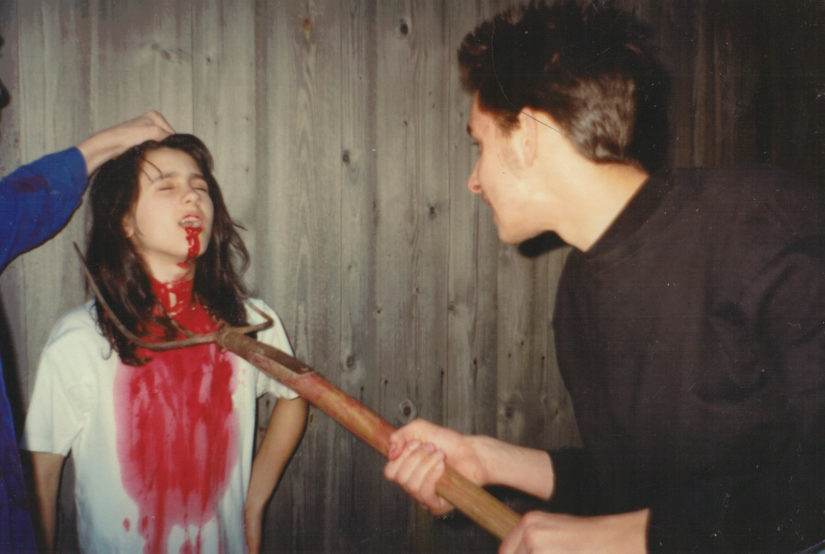 What a melodious title for a low-budget (teetering on no-budget) slasher by then-seventeen-year-old Martin Nechvatal. A group of teenagers explores an abandoned building and is promptly decimated by a killer on the loose. Every over- or underexposed frame is infused with Nechvatal's passion for filmmaking of the more down-and-dirty variety. Strap in for a perfectly pleasurable piece of fanboy cinema in which the protagonists are systematically butchered to a mash-up of dozens of iconic pulp soundtracks—topped off with formidable homemade gore effects. The pure essence, if you will, of the SLASH Film Festival. (mk)
In attendance of Martin Nechvatal (director)
O P E N E R
DAS WIENER KETTENSÄGENMASSAKER
Martin Nechvatal | AT 1993 | 16'
A masked killer is hunting down commie block kids to brutally kill them on a nearby wasteground and indulge in devouring their flesh thereafter.
Martin Nechvatal
Nechvatal, Martin already made Austrian horror films long before they became mainstream. Born in 1976, he is well known for his early splatterfest Das Wiener Kettensägen-Massaker (1993, SLASH 2014). Before he turned 20, he had completed its hour-long quasi-sequel Horror Maniacs – I Want to See Pigblood! and the short Born of Oblivion. His first full-blown feature was the gory psycho-drama Leben einen Tod lang (2004). Martin has worked with the Viennese collective monochrom and is known in his hometown for raising hell with the 1. Wiener Bluttheater.
Screenings
Metro
Su,24.09.▸18:00
More films you might like