Pussycake
Emesis | Pablo Parés | AR 2021 | 82 Min | DCP
Filmcasino
Fr,30.09.▸23:00
Night of the 1000 knives
Tickets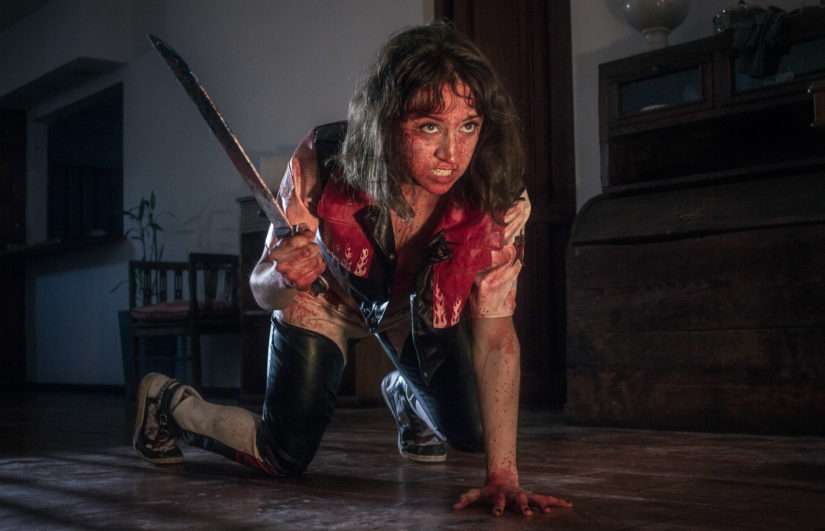 The all-girl rock band Pussycake shreds, sings, and screams its way through dive bars. A gig in a coastal town, with some major-label music producers present, may be the big breakthrough. But on their arrival, the joint is closed and deserted. Instead, the hard-assed rockers are attacked by projectile-vomiting zombies and must fend for their lives. The Argentinian splatter whiz Pablo Parés infuses this sprightly little trip with gallons of blood, mucus, and guts—Pussycake seems like an expulsion from the B-movie heyday and a cruise back to the 1980s. Fantastically phantasmagorical!
V O R F I L M
GOOD BOY
Eros V, UK 2021, 9′, eOV
Austrian premiere
Cute little puppy turns out to be a hellhound. Woof!
NIGHT OF 1000 KNIVES
Get ready for the wildest night of the year! Four of the vilest, most wonderful, grisly, gory atrocities we could get our hands on, plus one quick act of beastly malice will rob you of your sleep. And remember: All who stay till the end will receive a coveted, extremely limited badge pin with original artwork.
Sep 30, 11 p.m., Filmcasino
Pablo Parés
is probably best known for his Plaga Zombie saga and directing the series Daemonium, which he also edited into a movie version. The Argentinian director with a background in movies, music videos, and commercials started making films when he was a young teenager. He often works on shoestring budgets, has his own production company, Farsa, and usually distributes his films independently.
Screenings
Filmcasino
Fr,30.09.▸23:00
Night of the 1000 knives
More films you might like