Dear SLASH family!
Vienna's SLASH Film Festival is opening its doors for the twelfth time from September 23 through October 3, 2021. Counting more than 15,000 visitors each year, SLASH is the second-best-attended Viennese film festival after Viennale and the biggest community event for Fantastic Cinema in Austria.
In 2021, SLASH is conjuring a brimming, hissing, bloody, ornery, mystical, preposterous brew of fantastic film highlights, a fabulous concoction of all things fantastique served piping hot and ice-cold in domestic theaters. From horror to science fiction, from award-winning productions to outlandish splatter orgies, from highly anticipated genre gems to celebrated classics, from hopelessly bleak to deliciously humorous—we have something for every taste, whether you're a gore lover or a scaredy-cat.
The festival opens on Thursday, September 23, for the first time at Stadtkino Vienna. The following ten days will see the screens of the tried-and-true locations—Filmcasino, Schikaneder, METRO Kinokulturhaus—running with gallons of (movie) blood. Along with the film screenings, fans will also have quintessential satellite events in and out of the movie theaters to look forward to.
Festival artwork: Machine Eats Organism
This year's key visual is once again courtesy of the Viennese HYPHE agency, who is also responsible for this year's festival trailer.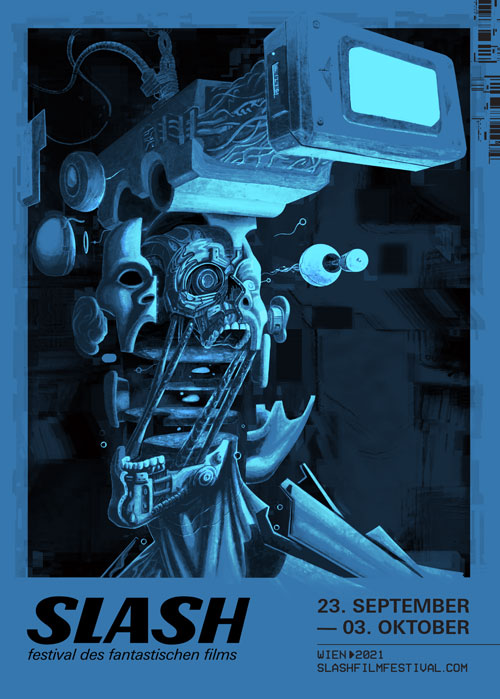 For their artwork, HYPHE duo Elias Fleischer and Franz Mühringer took inspiration from retro-futurist elements, cyberpunk, and body horror, including films like VIDEODROME and GHOST IN THE SHELL.
At its core lies the question of what happens when, in a high-tech environment, the cool geometric world of machines becomes increasingly oppressive to humanity. How much remains of us humans when, after a long period of isolation, we finally crawl back out of our bubble and seek connection in the real world?
This is exactly what SLASH invites us to do. The festival is a call to come to the theaters and exchange ideas with filmmakers and the audience, to let the selected titles provoke and shock us and to celebrate Fantastic Cinema—in real places with their own flair, in movie theaters and foyers that are so wonderfully atmospheric and unique that no streaming experience could ever come close.