The countdown is on. Four weeks from today, on September 19, /slash Filmfestival kicks off with THE LODGE by Veronika Franz and Severin Fiala.
Join us and enjoy more than 60 films in three venues: from eagerly awaited releases like Rob Zombie's 3 FROM HELL to sensational feature film debuts like Ninian Doff's BOYZ IN THE WOOD, from festival darlings like ADORATION by Fabrice du Welz (world premiere last week in Locarno), to genre legends like TAMMY AND THE T-REX, which we will be screening in its recently discovered Gore-Cut.
The full line-up will be available online on September 2, 2019. Ticket pre-sale starts on September 6, 2019.
Closing Film
BOYZ IN THE WOOD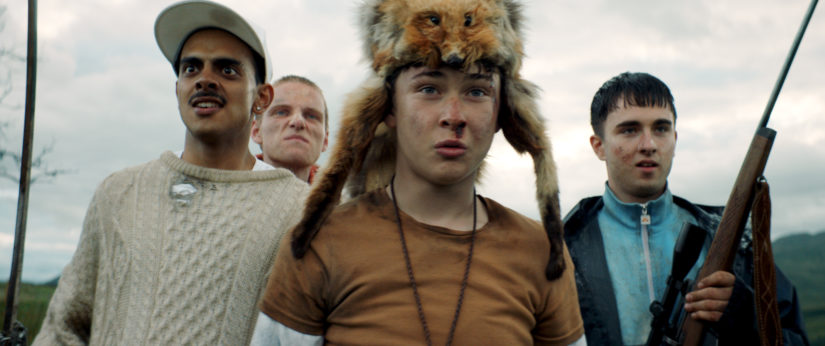 Four teenage boys are to pass the Duke of Edinburgh challenge to become better people, though most of them are not there voluntarily: the challenge is to travel from point A to point B in the Scottish highlands without any outside help. As if that were not enough already they are being hunted down by trigger-happy aristocrats on a hunt for the boys. Ninian Doff's sensational feature film debut BOYZ IN THE WOOD is a satirical class-struggle action comedy with a star-studded cast, including Kate Dicke and Eddie Izzard, driven by a fantastic hip hop soundtrack (and hallucinogenic bunny droppings).
Director: Ninian Doff | UK 2019 | 87' | DCP | eOV
Cast: Viraj Juneja, Samuel Bottomley, Eddie Izzard
/vortex
3 FROM HELL
Fourteen years after their supposed end in a hail of bullets, the ragged remnants of the sadistic Firefly troupe break out of jail and start to make their way to Mexico. By beating, shooting, and cutting all human and other obstacles out of their way they hope to finally find peace there. However they are soon to realize that Mexico runs by different rules. 3 FROM HELL completes Rob Zombie's grindhouse trilogy and as in its predecessors the result is a colorful, whirlwind of violence that evokes the impertinence of the 1970s exploitation cinema full of yearning and fervor, thereby finding its way into the pantheon of genre film legends itself. Massive!
Director: Rob Zombie | US 2019 | 114' | DCP | eOV
Cast: Sheri Moon Zombie, Sid Haig, Bill Moseley
/vortex
COME TO DADDY
A hipster in midst of an existential crisis sees his father again for the first time after having long since cut all ties to him: the old grouch however is in no mood for a family reunion, but would much rather drive his mild spirited son mad with various provocations. And yet this is but the beginning of this moody, unpredictable, and vicious thriller comedy, in which the cult actors Stephen McHattie and Elijah Wood shine in their top form. COME TO DADDY is the debut feature film by the highly active, successful producer Ant Timpson and is shaped by his love for low-brow cinema. All this is to say: it is a film to laugh, to whimper, and to scream at. In the best case at the same time.
Director: Ant Timpson | CA/NZ/IE/US 2019 | 93' | DCP | eOV
Cast: Elijah Wood, Stephen McHattie, Martin Donovan
/vortex
ADORATION
The mother of the twelve-year-old, highly sensitive Paul works in a psychiatric hospital that lies in midst the forest in the Ardennes. When he meets Gloria by chance, who is the same age as he is, as a patient in the hospital, he falls deeply for her and helps her to break out: the two youngsters flee through the thick forest, but what begins as a run-away romance, soon mutates into a destructive Entwicklungsroman. The exceptional director Fabrice du Welz captures this displaced world of the two youths in hyper sensuous analogue images, and transforms them into a fantastical, surreal primordial soup of desire, lust, and despair: ADORATION is a revelation.
Director: Fabrice du Welz | BE/FR 2019 | 98' | DCP | OmeU
Cast: Thomas Gioria, Fantine Harduin, Benoît Poelvoorde
/vortex
EAT, BRAINS, LOVE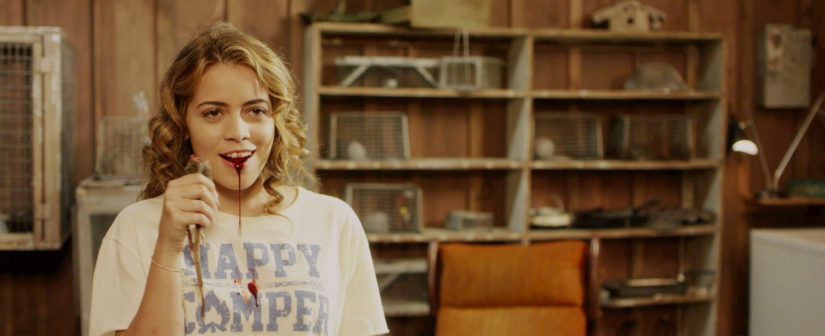 In a high school all hell breaks loose after two students turn into zombies in the canteen and begin to feast on their colleagues. The outsider Jake and the clique leader Amanda prove to be an undead fated couple and embark on a road trip through the USA: on the run from the heavily armed (and corrupt) Necrotic Control Division, on the search for a cure, the two of them get closer than either of them ever would have thought, hoped, or feared and discover their love for each other. EAT, BRAINS, LOVE is without a doubt the most beautiful and funniest zombie comedy of the year, not only, but also because the director Rodman Flender so masterfully hops between gore, heart, and mind.
Director: Rodman Flender | US 2019 | 87' | DCP | eOV
Cast: Jake Cannavale, Angelique Rivera, Sarah Yarkin
/competition
SOMETHING ELSE
Hank and Abby are a dream couple and live out their harmonic relationship in a country house. Ten years later it is all over: without any explanation Abby leaves her husband and the house, leaving Hank to wander through the ruins of his love filled with self-pity and rage, convinced that whenever the sky turns dark, a monster tries to break into his home. Seven years after the indie hit THE BATTERY, Jeremy Gardner once more blends a scattered relationship scenario with an excellent character drama in SOMETHING ELSE to make a minimalist, highly effective genre film that includes every aspect between massive horror techniques (including a Jump-out-of-your- seat-scare) and a fourteen minute long dialogue sequence as a pièce de résistance.
Director: Jeremy Gardner, Christian Stella | US 2019 | 83' | DCP | eOV
Cast: Jeremy Gardner, Henry Zebrowski, Brea Grant
/legendary
TAMMY AND THE T-REX (Gore-Cut)
When a very young Paul Walker falls into a coma after being attacked by a lion (!), a mad scientist transplants his brain into that of a T-Rex robot – which in turn makes the robot come alive and try to win back his former (human) girlfriend. TAMMY AND THE T-REX gathered dust in the video stores in its family friendly cut released 1994. Luckily, the Academy Film Archive discovered the only 35mm print of the Gore-Cut, in which the dinosaur crushes, rips apart, or eats people whole. The birth of a cult phenomenon and one of the most important film historical finds of all time, at least according to /slash.
Director: Stewart Raffill | US 1994 | 91' | 35 mm | eOV
Cast: Denise Richards, Theo Forsett, Paul Walker