DETECTIVE DEE: THE FOUR HEAVENLY KINGS
Di, 25.09. | 20:30
METRO Historisch
Sa, 29.09. | 18:00
FILMCASINO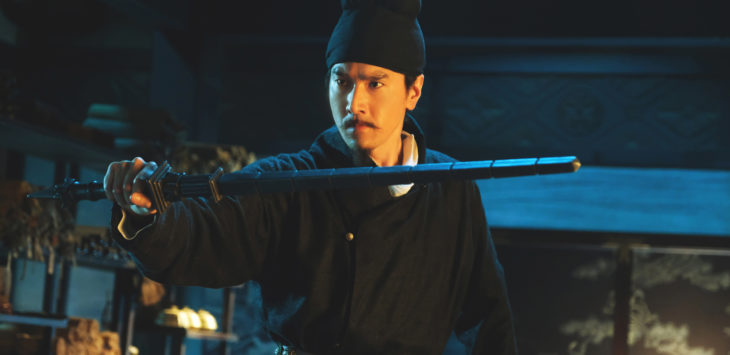 Läuft am 29.09 als Double-Feature mit SWORD MASTER 3D.
Screening im Filmcasino am 29.09. ist in 3D.
Mehr Pomp, mehr Pop, mehr Zucker gehen ganz einfach nicht: Di Renjie aka Detective Dee ist zurück und muss sich erneut mit Intrigen am kaiserlichen Hof herumschlagen. Dass diese primär von seiner Erzfeindin und Kaisergattin Wu Zetian orchestriert werden ist dabei allerdings weniger überraschend, als der Moment, an dem ein gigantischer goldener Drache erscheint. Tsui Harks dritter DETECTIVE DEE-Film ist vergnügliches bis visionäres Spektakel-Kino, bis in den hintersten Winkel vollgeramscht mit verzückender Buntheit und kulminierend in einem Battle Royale mit fliegenden Ninjas, Riesenaffen und einem mit Augäpfeln um sich werfenden Tentakelmonster.
Tsui Hark (*1950), the Spielberg of Hong Kong, is a master of many genres, from crime thrillers to comedies. He directed several influential films such as ZU WARRIORS FROM THE MAGIC MOUNTAIN (1983) and THE BLADE (1995); and of course 2010's award-gobbling smash hit DETECTIVE DEE AND THE MYSTERY OF THE PHANTOM FLAME (/slash Spring Roll 2011) and the prequel YOUNG DETECTIVE DEE: RISE OF THE SEA DRAGON (2013, /slash ½ 2014).
Läuft wann und wo?
Di, 25.09. | 20:30
METRO Historisch
Sa, 29.09. | 18:00
FILMCASINO
Einzeltickets Double-Feature Tickets